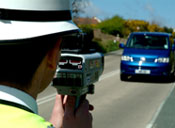 RETURN POLICY:

30-DAY MONEY BACK GUARANTEE! RETURN POLICY:
Satisfaction is GUARANTEED! If you experience a problem with an item purchased from us, please contact us so we can trouble-shoot the problem. We certainly want you to be completely satisfied with your purchase however, due to abuse of our liberal return policy the following return policy must be enforced. We are currently unable to accept returns without a return authorization number issued from us. Merchandise accepted for return, with all original packaging, paperwork and manuals, and in new condition is subject to a restocking charge of 15% of the original purchase price.
Any and all returns will be subject to this restocking fee. Returns will only be accepted within 30 calendar days of original purchase date. Any and all shipping and handling charges are NOT refundable.
No more speeding tickets!
Best prices Guaranteed!!!

SHIPPING TO FOLLOWING STATES: AL AK AZ AR CA CO CT DE DC FL GA HI ID IL IN IA KS KY LA ME MD MA MI MN MS MO MT NE NV NH NJ NM NY NYC NC ND OH OK OR PA RI SC SD TN TX UT VT VA WA STATE WA KING WV WI WY Alabama Alaska American Samoa Arizona Arkansas Canal Zone Colorado Connecticut Delaware District of Columbia Florida Georgia Guam Hawaii Idaho Illinois Indiana Iowa Kansas Kentucky Louisiana Maine Mariana Islands Maryland Massachusetts Michigan Minnesota Mississippi Missouri MontanaNebraska Nevada New Hampshire New Jersey New Mexico NYC New York North Carolina North Dakota Ohio Oklahoma Oregon Pennsylvania Puerto Rico Rhode Island South Carolina South Dakota Tennessee Texas Utah Vermont Virgin Islands Virginia Washington West Virginia Wisconsin Wyoming AP APO AE AA CL Chile CA Canada SA South Africa EU Europe UK Germany For the following items: PHAZER PHANTOM COBRA PHANTOM 1 2 3 4 5 6, PHANTOM RMR C435, RMR C430, C450, 8RD, D550, D250, S201, RS202, RS202D, 8RD, 212 , PHANTOM RMR C475, JAMMER, PHANTOM, PHAZER 3, PHAZER II RMR S201, PHAZER 2, ACCESSORIES
[RMR-C430] [RMR-C410] [PHAZER 3] [SCORPION] [BLINDER] [ANTI-PHOTO] [RMR-C450] [RMR-8RDS] [PHAZER JAMMER] [M-100 LASER JAMMER] [RMR-RS202D] [RMR-C430] [PHANTOM JAMMER] [BLINDER M25 X-TREME] [BLINDER M45 X-TREME] [PHANTOM PHAZER] [BLINDER M27] [BLINDER M47] [PHANTOM 4 ] [BLINDER M20] [BLINDER M40] [CONTACT US]
© 2019 e-radar-detectors.com All rights reserved.